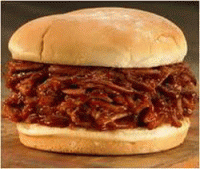 This yummy barbeque pulled pork recipe is made in a crock pot so you cook it slow; it turns out so finger-licking good and …oh so tender.
Make this one (using our famous hot pepper sauce) for the next game day or the next time you invite your friends over for that summer party and it is guaranteed this will be the new crowd pleasing favorite.
BBQ Pulled Pork, Dat's Nice Style
Recipe type:
BBQ Sandwiches
Prep time:
Cook time:
Total time:
Ingredients
3 cup chopped celery
1 cup chopped onion
1 cup ketchup
1 cup Dat's Nice Datil Pepper BBQ Sauce
1 cup water
2 tbs vinegar
2 tbs Worcestershire sauce
2 tbs brown sugar
1 tsp salt
½ tsp pepper
½ tsp garlic powder
1 – 3 or 4 pound lean pork roast
Hamburger Buns
Instructions
Combine first eleven ingredients in a slow cooker pot; mix well.
Add the roast and turn to cover with mixed sauce.
Cover and cook on high for 7 to 8 hours or on low for 14 to 16 hours until meat is tender.
Remove roast; cool enough to handle.
Shred meat and return to sauce.
Heat thoroughly.
Serve on warm buns with your favorite side.