After a few years of making our pepper sauces and sharing with friends and family, we finally decided to pick the pepper and look for a company who could make our spicy sauces, then bottle and label it for us. Many considerations had to be thought through before choosing one co-packer. Are they credible? How closely will they work with us? Do they have a minimum order? …and, how close will their version of our datil pepper sauce taste to our prized possession?
Yet even with all the researching, checking and double-checking…then tasting and retasting, it was likely the most exciting day when we finally saw our Original Dat's Nice Datil Pepper Sauce being put into jars and watched as the bottles moved along the conveyor to be labeled, capped and ready to be packed in their cases. 
Since that glorious day when we watched our first bottling of our pepper sauces, dipping sauces and grilling sauces come to fruition at Endorphin Farms in St. Augustine, Florida, we have grown in many ways plus we've expanded the business adding the newest hot pepper sauces, Datil Pepper BBQ Sauce, Datil Pepper Chickin Dippin Sauce,  Datil Pepper Mango Sauce, Datil Pepper Mango Salsa, and our latest, Datil Pepper Hotter-n-Hell Sauce.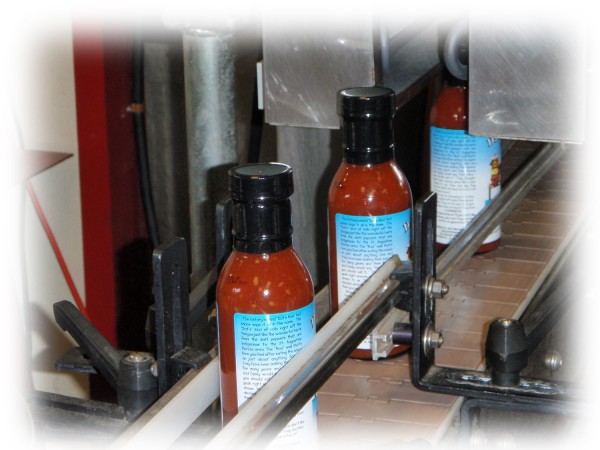 Considering all there is to make sure about when deciding to bottle a product, one must keep in mind that the co-packer has all the right licenses with the health department, the State and Federal Departments of Agriculture and that their system prevents air from entering the flow path as bottling is occuring. Additionally, as a small Artisan I wanted someone who would be gentle with my pepper sauces and treat it as I would in my own kitchen. I needed a co-packer who would:
• Cook my pepper sauces and match my recipe to a tee
• Fill the bottles and apply my labels
• Heat shrink a safety seal on the bottle
• Print a best-by date on the bottle
• Box the bottles
We have been very fortunate to have located Endorphin Farms right here in our own St. Augustine backyard, plus we were also blessed to locate our label designer, as well — DesignByTerri— who has dressed our bottles with labels that match our product. We love giving credit where credit is due because without these fine folks, we wouldn't be here.



Today we currently bottle the 12 ounce size, 5 ounce size, and we're expanding into gift packs and plus gallon jugs of select hot pepper sauces.
Co-branding is also our newest endeavor and this works very well with the 5 ounce jars. Our concept is simple: purchase the necessary numbers of dipping sauce, grilling sauce or original pepper sauce in 5oz bottles with our joint branded labels and then stock up with our gallon jugs to refill the jars. If you are a restauranteur, caterer, chef, grillmaster or anyone who does a lot of cooking for many people, this can be a great way to either sell our pepper sauces in your establishment with a joint co-branding or use the hot pepper sauces to cook with and supply to your customers at their tables (just like ketsup, but better) so they can enjoy any one of our four sauces with your scrumtious menu enteree'.
We have new plans for the future for Datil Pepper dressings, condiments and jams all of which we will be bottling to match our look and brand – then they will also be added to the site. Bookmark us so you can quickly order one of our four current Datil Pepper Sauces and use the bookmark often to keep checking back with us for more great Dat's Nice Datil Pepper  products.