Are You Ready To Get Sauced With Us?
Over the last year, we've been approached by restaurants who want to carry our delightful datil pepper sauces and still show their business logo. Well, we can make this happen! Dat's Nice Datil Pepper Sauces can be found at various locations around Florida.
The co-branding concept was started in 2011 with several restaurants wanting to partner with us.  This relationship serves us both well as we gain much more exposure for our awesome sauces, and they sell more of their fabulous prepared foods with our sauces on them. It is a win-win for us both! If you would like to learn more about co-branding with us, complete the Form below and we will get with you right away.
Here are a few of the Florida restaurants who have partnered with us so far. We cannot say it enough how well this has fared for us all.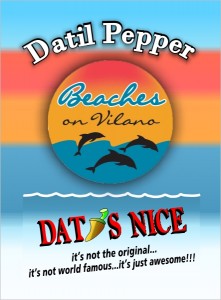 Beaches Restaurant, St. Augustine – Located next to the Vilano Pier and the Inlet Marina in St. Augustine, Florida, they offer fresh seafood,  scrumptious chicken, flavorful steaks, pasta and beach burgers.
During the Summer of 2011, Beaches began serving and selling our original Datil Pepper Sauce, with a twist… their own branded labels on our product. What an idea!!!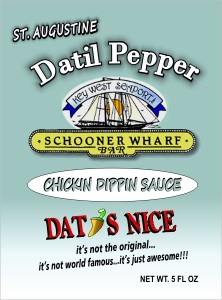 Schooner Restaurant, Key West — Open Air Waterfront Bar & Grill in Key West, Florida with casual atmosphere offering breakfast, lunch and dinners.
In the late Fall of 2011 the Schooner decided to try our Datil Pepper Sauces and co-brand with us. Way to go, partner!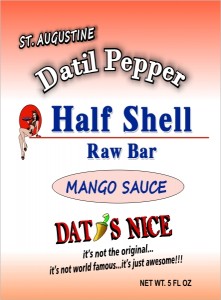 Half Shell Raw Bar, Key West  —  A low key restaurant in Key West, Florida  offers casual lunch or dinner. Settle down to an informal atmosphere, local characters, great bar and waterfront dining.
Our third co-branding partner joined us in the Fall of 2011 and it has been a valuable relationship so far. They are currently sharing our Dat's Nice Datil Pepper Sauce and our Dat's Nice Mango Sauce with all of the residents and tourists in the Florida Keys.

If you manage any style of restaurant, our products could be just the addition you need to add zip to your menu or tang to your tables. Contact us using the following form.