If you have always been one of those kind of people… You know who we're talking about! The one who loves flaming-hot food… then let's talk Datil peppers! Although Datil peppers are not the hottest fruit in the bowl, they are 'on fire' for those who love to savor the sweet heat of the perfect yellow gem.
Information that is available for those who want to cook with the Datil pepper advises to take precautions when cutting them; to wear rubber gloves because the capsicum oil the peppers contain quickly penetrates the skin and lingers long after washing. Amazing! So why would you want to risk days afterward of possible whoops when using your hands near your eyes or other sensitive areas? 
If you love to cook and you love the spicy-sweet flavor of the Datil pepper, we've taken all the Uh-Oh out of handling the raw peppers; through years of blending and taste-testing, basting and cooking, we've come up with four of the very best Datil pepper sauces to satisfy any tastebuds.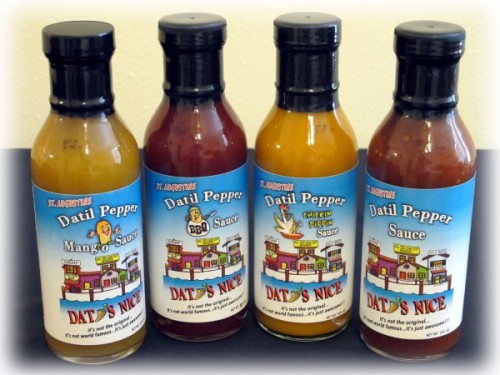 There's Dat's Nice Original Datil Pepper Sauce that is  exceptional for seafood cooking, but it also makes fantastic meatloaf, burgers, sausage and chicken.
Next, Dat's Nice Datil Pepper BBQ Sauce makes the best  barbequed chicken, wings and pork plus it is excellent as a dipping sauce, too.
Maybe you are trying to cut back on beef and pork, but you love your chicken; our Dat's Nice Datil Pepper Chickin Dippin Sauce can be used to marinate chicken or fish, baste before grilling, is great in salads…and super for dippin chickin!
Our newest edition is the Dat's Nice Datil Pepper Mango Sauce with an extra zippy tang… the fruit-sweet savor of the mango. Use this to roast chicken or pork, ribs and so much more. 
We plan to share some awesome recipes with you of things we love to cook using our sauces. Check out our Recipe Section, too because we will be adding more and more great recipes all the time.
One of our favorite ways to use any of the four flavors of Dat's Nice Sauces is for basting foods when cooking on the grill. Each distinctive flavor gives the planned dinner food the unique seasoning of its own plus the sauce also helps the meat, poultry or fish retain many of its natural juices keeping the food tender and juicy.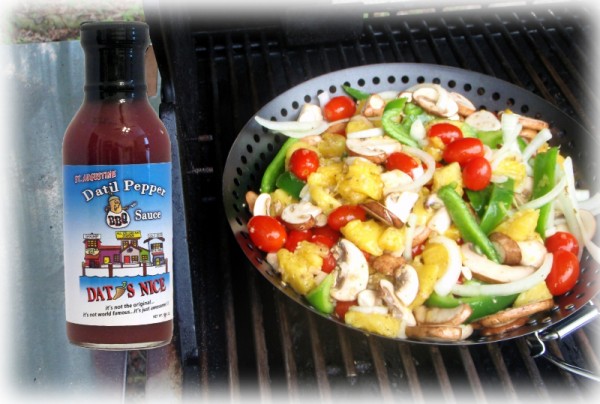 Grilling with Dat's Nice sauces makes spectacular vegetables and kabobs, too. Keep a bottle with you every time you grill because there's simply no limit to all you can use our sauces on when cooking. Whether it's your basic weekday dinner or if you are throwing a big backyard party, our sauces will spice up every meal. From the tastiest burgers to delicious  seafoods, our sauces will have everyone saying, 'Ah, Dat's Nice!'

Cooking Dat's Nice Style
We love cooking and trying new recipes all the time. The only thing better than the actual cooking (and eating our finished masterpieces) is sharing our really great recipes with you. Here is a twist on an old classic: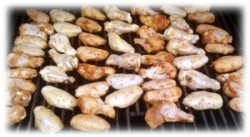 Tangy Grilled Datil Pepper BBQ Wings
♦  4 Pounds Wings (about 24 Chicken wings, cut apart, tips discarded. We place wings and 1 cup Datil Pepper BBQ Sauce in a large zip lock back and refrigerate over night)
♦  Dat's Nice Datil Pepper BBQ Sauce
The red ripe tomatoes, brown sugar, datil peppers and honey of our Datil Pepper BBQ Sauce make these wings finger-lickin' scrumptious.
1.  Preheated outdoor grill
2.  Arrange wings on grill grates about 1 inch apart
3.  Baste with Datil Pepper BBQ Sauce, turning as they cook
4.  Continue basting with Datil Pepper BBQ Sauce and cook until crispy red-brown
5.  Remove from grill and arrange on platter basting with extra Datil Pepper BBQ Sauce until dripping
6.  Serve with plenty of napkins