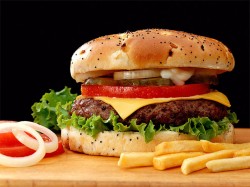 Like your hamburger with a bit more kick? This zippy version of the classic burger will warm your palate and your belly! Just adding everyday hot pepper sauce to your burgers for an added zing is one approach, but when you want a taste that is totally unique and only a tiny bit sweet.
When you are looking for new and exciting recipes for your dinner table or your next cook-out, you will surely want to add this pepper sauce recipe to your box. Grilled to perfection and seasoned with our Original Datil Pepper Sauce, you can add a whole new flavor idea the next time you're cooking up a batch for a family and friends get together.
Prep time:
Cook time:
Total time:
Ingredients
2 lb ground beef
2 c. Italian bread crumbs
1 c. Dat's Nice Original Datil Pepper Sauce
Instructions
Mix all ingredients thoroughly.
Shape into patties of desired size and thickness.
Place patties in the freezer for about 1½ hours.
Cook on grill until desired rare/medium/well is achieved and serve on buns with your favorite accompaniments. You can add cheese during the final grilling to make it a Datil Cheeseburger. So good!