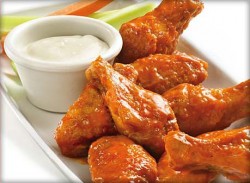 Wings are one of those comfort foods that take time to get just right.  It took me forever to find the best cooking process to get crispy wings that have tons of pepper sauce seasoning.  The best part of these delicious wings in spicy sauces is that they are broiled, not fried so they're not loaded with all the extra fat.
Obviously you could use any kind of hot pepper sauce or the spicy sauces that you like on these wings, but we opt for the unique flavor and spice of the datil pepper sauce.
In hopes that this will making creating great crispy wings easier for you, I share my favorite way to cook wings with spicy sauces, like the pepper sauce we use in this recipe, that have flavor throughout and still stick to your fingers, too.

Spicy Wings with Datil Pepper Sauce
Author:
Dat's Nice Hot Sauce
Recipe type:
Appetizer, Entree
Prep time:
Cook time:
Total time:
Get your wings right the first time. Finger lickin' deliciously spicy wings are cooked the right way - broiled instead of deep fried - and dripping with datil pepper sauce.
Ingredients
3 pounds Chicken Wings approximately 18 wings
Dat's Nice Datil Pepper Sauce
Instructions
Preheat broiler
Lay wings on rimmed baking sheet, wing tips down
Place wings under broiler about 6 inches from heat source
Broil for approx. 35 minutes until golden brown (rotate pan if necessary)
Remove wings and place in large bowl
Drain fat from baking sheet and discard
Coat wings in Datil Pepper Sauce
Return to baking sheet (keep the sauce)
Broil again for approx 3 minutes rotating pan once
Remove from broiler
Return wings to remaining sauce
Coat again and serve...(with napkins)