Have you heard the news?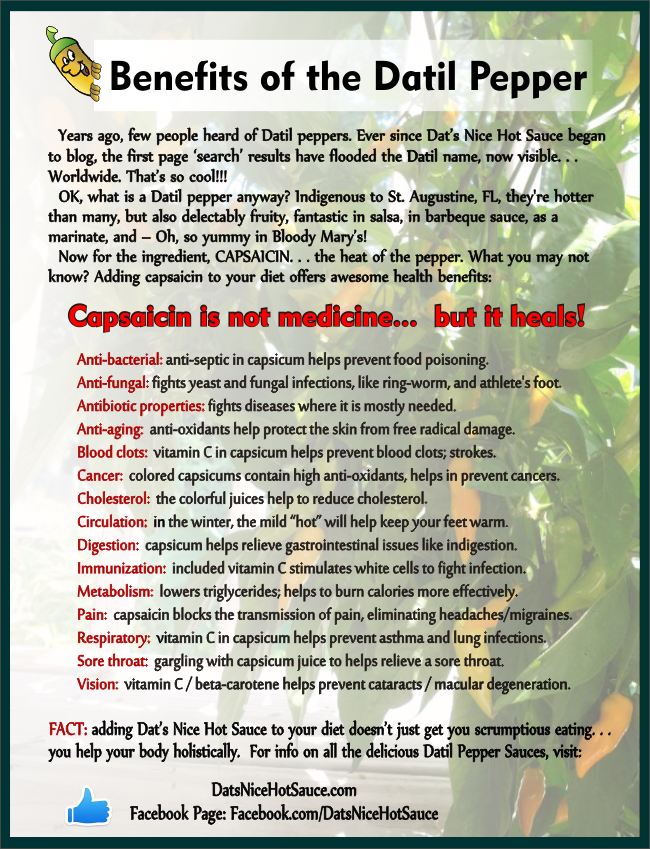 Trivia for the day: Maybe you know about this special ingredient; maybe not!  It's amazing that many people don't understand about hot pepper heat. The spice that comes from the capsaicin really doesn't actually cause burns; seriously the burn is just a sensation.
It's true! Your nervous system contains heat receptors that are inactive unless exposed to high temperatures, like scalding coffee. So when you eat chili peppers or hot pepper sauce, the capsaicin sends a false alarm to your brain causing it to react as if your tongue and throat have been set ablaze.

Thus, considering the information graphic above that lists all the many benefits you can gain by making datil peppers a regular past of your diet, it is time to begin getting your body accustomed to the sweet heat of Dat's Nice Hot Sauce.
Fill out the contact form and tell us you read our blog OR give us a call, or better yet, TEXT us at nine-0-four/six-6-nine/eight-7-nine-3.
We'll give you a code for $1.00 off per bottle of our delectable datil pepper sauce!