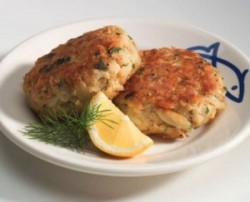 The datil pepper adds the perfect spice to shell fish meat and makes a scrumptious crab cake dinner entree. While we suggest our original datil pepper sauce, your crab cakes can take on a whole new bold flavor with our mango datil pepper sauce too.
Crab cakes aren't just for entrees either, you can take this simple crab cake and pepper sauce recipe and divide it into smaller portions for a perfectly delicious and just a bit spicy appetizer!
The secret to these delicious crab cakes, in addition to the pepper sauce, is the small amount of Panko instead of breadcrumbs for a noticeable flavor difference. Give your crab cakes a new WOW! factor with the right pepper sauce.

Prep time:
Cook time:
Total time:
A new twist on an old classic - crab cakes never tasted so yummy!
Ingredients
1 egg
2 teaspoons seafood seasoning (example: Old Bay Seasoning)
½ cup mayonnaise
¼ cup Panko crumbs
1 teaspoon ginger powder
1 teaspoon Dat's Nice Original Datil Sauce
1 lemon – juiced
3 tablespoons olive oil
1 pound crab meat (fresh is recommended)
All purpose flour for coating/dusting
Instructions
In a large bowl, thoroughly mix the egg, seafood seasoning, mayonnaise, Panco crumbs, ginger powder, Dat's Nice Regular Datil Sauce, lemon juice, and olive oil.
Add the crab and blend into the mixture, being careful not to break up the lumps of meat.
Refrigerate for 30 minutes to 1 hour.
Portion the crab into 2 ounce cakes and lightly coat/dust with flour.
Heat a skillet over medium heat with the olive oil.
Add the cakes and saute until golden brown, 2 to 3 minutes each side.
Repeat the process until all the cakes have been cooked.