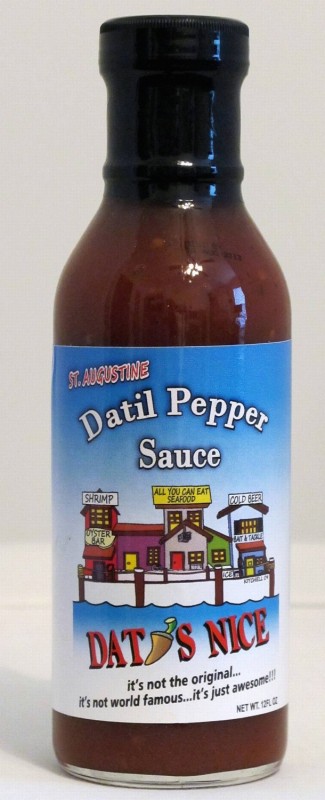 Dat's Nice Datil Pepper Sauce is not like other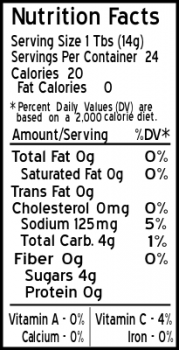 hot pepper sauces where it burns your mouth out to the Nth degree. Instead you will taste the distinct flavors that have been blended with the fire of the datil pepper to give this spicy sauce a unique flavor all its own.
Datil Pepper sauce is perfect for seafood cooked any way, but it also makes fantastic meatloaf, hamburgers, grilled sausage, chicken, and you guessed it — Bloody Mary's. Our Original Datil Pepper Sauce…Dat's Nice!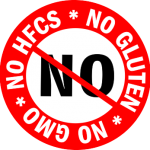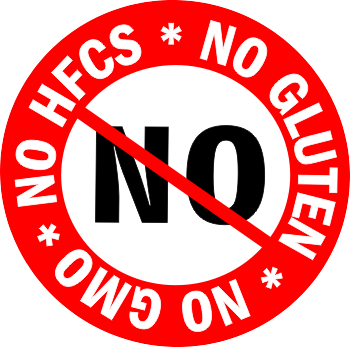 Our sauces are now:
Gluten Free
NO High Fructose Corn Syrup
NO GMO!

INGREDIENTS: Water, Sugar, Tomato Paste, Onions, Datil Peppers, Green Bell Peppers,  Cucumber, White Vinegar, Brown Sugar, Salt, Roasted Garlic Rice Vinegar, Red Pepper Rice Vinegar, Natural Rice Vinegar, Rice Wine Vinegar, Garlic, Water, Distilled Vinegar, Worcestershire Concentrate (Molasses, Vinegar, Water, Spices, Natural Flavor, Caramel Color, Garlic Powder, Salt, Anchovies, Tamarind, Sulfiting Agent), Sugar, Black Pepper, Xantham Gum, Onion Powder, Garlic Powder.
Description

Datil Pepper Sauce