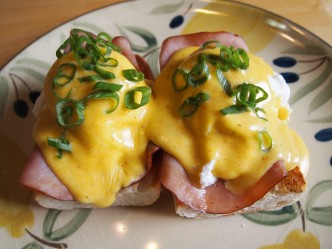 Poached eggs over healthy ham slices on buttered, toasted English muffins, topped with Dat's Nice spiced Hollandaise sauce… YUM!

Prep time:
Cook time:
Total time:
Our Hotter-n-Hell Datil Pepper sauce gives this old classic a new zip on flavor. Try this recipe for your next weekend breakfast and you'll love it!
Ingredients
-- For the sauce:
12 tbls unsalted butter, room temperature
6 egg yolks
½ cup boiling water
2 teaspoons lemon juice
Pinch black pepper
¼ teaspoon garlic salt
¼ teaspoon sea salt
1 teaspoon Hotter-n-Hell Datil Pepper Sauce
-- For the Eggs Benedict:
4 eggs, poached
2 English muffins, split
1 large tomato, 4 thin slices
4 slices Applegate Black Forest Ham, cut in half
½ cup Colby cheese, shredded
Salt, pepper, chives (optional)
Instructions
-- MAKE SAUCE:
Fill the bottom of a double boiler half way with water.
Be sure the water does not touch the top pan.
Bring water to a easy simmer.
In the top of the double boiler whisk the butter and egg yolks together until smooth.
Slowly, add ½ cup boiling water to the mixture, whisking continuously but make sure the egg yolks do not cook.
Whisking constantly, heat the mixture until it is thickened.
Remove the pan from the heat.
Whisk in the lemon juice, black pepper, garlic salt, sea salt, and datil
pepper sauce.
Once blended, place a lid on pan to keep sauce warm.
-- FINISHING:
Turn on broiler.
Arrange English muffin halves in single on broiler pan, place in broiler on top rack and toast to golden.
Remove from broiler, butter each half, then place two halves of ham slice on top of each muffin.
Return pan to broiler until ham is heated through.
Place the cheese on top of each piece of toasted English muffin, returning to broiler once more until cheese melts.
Remove and place one slice of tomato and a poached egg.
Lightly drizzle the sauce over top.
Garnish with chives, salt and pepper, if using.