During these lazy, hazy, crazy days of summer we're wondering if you've been outdoors grilling all your favorite foods. If so, we certainly hope you have plenty of Dat's Nice Datil Pepper sauces on hand for marinating as well as basting those favorite grill entrees. You see, the best thing about Dat's Nice sauces is since the datil hot pepper is also fruity and sweet, when any one of our sauce varieties is used with chicken, fish, steak, ribs, or even grilled veggies… the sauce adds exceptional flavor – not burn – and will be one to savor again and again.
What's that? You say you've been paying attention – you've given up those processed bottles sauces – and are eating healthier! Well, with Dat's Nice you don't have to give up the sauce because all of our sauces are made with local grown ingredients; No HFCS, No GMO plus all are Gluten Free. Our sauces will add flavor to your food, not chemical preservatives, unnecessary fats or harmful ingredients.
As for grilling meats, look for pasture-raised without antibiotics or nitrates and when selecting seafood, buy local or wild caught and refrain from overseas products or farm-raised.  Then again, you might think you need meat to be the focus of your meal, just because it's the way you always did it!  But, here's a novel idea!!!  Get some veggies on the grill! Instead of boiling the nutrients out of your vegetables, cook them on the grill. Cut potatoes, carrots, zucchini, tomatoes, onions, broccoli, mushrooms, peppers and beans all taste awesome when brushed with Dat's Nice Mango or Chickin' Dippin' Sauce and grilled on a non-stick grill pan with holes… well you just won't believe how much of a meal this can be. Your dinner will taste great, you'll keep all the nutrients and you'll be eating healthier at the same time.
Here are some grilling tips: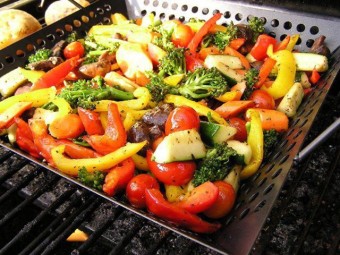 Basting – When it comes to backyard grilling, there are several ways to add extra flavor and spice up your food. The quickest way is with any one of Dat's Nice Datil Pepper Sauces that are brushed on during the last few minutes of grilling. You can choose your flavor such as our Original Datil Pepper, or one of 3 others such as our Chickin' Dippin', Mango or classical BBQ.
Marinate – One of the best things about marinades is that they do the work for you. As your food marinates in the refrigerator, you can do other things – or simply relax. In spite of their ease, marinades have a tasty influence on food, merely enhancing the flavor – never overpowering it. So, when using one of Dat's Nice Datil Pepper Sauces as a marinade, you can be sure that no single taste – sweet, sour, salty, mustard or capsicum will dominate.
So take advantage of these backyard grilling ideas and have a GREAT summer. Don't forget about our Recipe Section cataloging over 30 mouthwatering dishes made with your favorite Dats' Nice Datil Pepper Sauce. ENJOY!