So you say you'd like to give it a go and make some homemade hot sauce for those chicken wings you bought?  Well, the most important ingredients in any hot sauce is, of course, the hot peppers. It is best, no matter what type of peppers you want to use, to buy them locally grown or grow them yourself which is not hard to do.
So are you ready to get started? Now, you didn't actually think we were going to give you our recipe – did you? Of course not! Our recipe is as much a secret as Bush's Baked Beans! (just kidding)
What we will tell you is this: The main ingredients in any hot pepper sauce (besides the peppers) are − tomato sauce, vinegar, onion, garlic and any other salt/spice combinations you may like. The trick is to use more hot peppers if you want the sauce very hot, like up to 2 pounds of peppers per batch, or if you prefer a milder sauce you can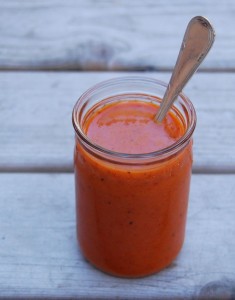 use less, about 1/2 pound should do it.
Everything goes into the food processor for pulverizing, cooked to finish – then Wha-La! You've got hot sauce.
But before you jump into the hot pepper sauce business, here are a few little pointers you might like to know:
It's better to have a milder sauce than one that's too hot to start.

You can also keep it milder if you remove and discard the seeds.

When working with peppers, you really should wear rubber gloves. Even the smallest cut will remind you of it for hours. 

Do not touch your eyes or any sensitive area after handling peppers.

Wash your hands

well

with lots of soap.

Finally, you might want to cook sauce outside because the fumes could leave you crying.
So if you are ready to give it a go… we wish you great success.
What's that, you're not sure you want to attempt this dastardly task?
Well then, jump on over to our Shop Sauces Tab and pick out any one of our already prepared delicacies. We've taken all the guesswork out of it! We have 5 awesome varieties so you can be sure you'll get some finger lickin' good sauce, right here.
Dat's Nice Hot Sauce takes all the questions out of making the best hot pepper sauce you'll ever taste.