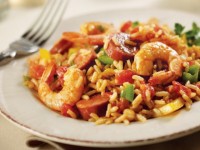 Some Like it Hotter!
This version of jambalaya gives you a choice on heat. You can use either Dat's Nice Original Datil Pepper Sauce for a medium hot dish or choose Dat's Nice Hotter-n-Hell Datil Pepper Sauce for a super spicy kick.

Prep time:
Cook time:
Total time:
A new variation of an old Louisiana favorite, Dat's Nice Hot Sauce adds the amount of heat you like.
Ingredients
2 tablespoon olive oil
1 package low sodium smoked sausage, sliced into rounds
2 chicken breasts cut into cubes
1 medium sweet onion, chopped
1 bunch green onions, chopped, white and green parts separated
1 cup chopped green bell pepper
2 cups long-grain white rice, uncooked
2 cans no salt-added diced tomatoes, undrained
½ cup tomato paste
2 cloves garlic, minced
1 whole bay leaf
1 teaspoon sea salt
½ teaspoon ground black pepper
4 quarts low sodium chicken stock
⅛ cup Dat's Nice Hotter-n-Hell Datil Pepper Sauce or
⅓ cup Dat's Nice Hot Sauce
1 pound raw medium shrimp, peeled
2 tablespoons finely chopped fresh parsley
Instructions
Heat olive oil in a large Dutch oven over medium-high heat.
Add the sausage and chicken and cook about five minutes stirring occasionally.
Add all onions (except the greens) and the sweet peppers; saute until vegetables are tender.
Add rice, tomato paste, choice hot pepper sauce, garlic, bay leaf, and diced tomatoes; bring to a boil.
Add chicken stock, salt and pepper to the base and return to boiling.
Cover, reduce heat, and simmer 35 minutes.
Add shrimp; cook additional 5 minutes.
Discard bay leaf. Stir in parsley and green onion tops.