Propogation
We started growing datil peppers locally in St. Augustine, Florida around 2007. Originally it all began as a family endeavor for use on our own foods, but as friends tasted the yummy original pepper sauce it was almost as if they were daring us to bottle and share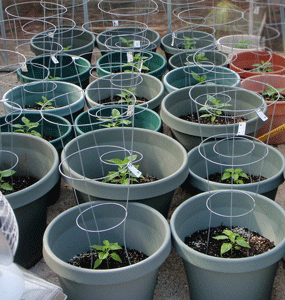 .
…and so we began Dat's Nice Datil Pepper Sauce, growing the datil peppers on our own property; weeks of germination, babying, feeding, watering (singing to… ah nix that one) and nurturing rows of datil pepper plants just so we can bring you our finest datil pepper sauces.
It all starts with the datil pepper seed. We begin to see buds in as little as a few weeks! Three weeks later, there are small buds all over the plants. Each one of those buds will eventually become a pepper! The plants grow steadily. They love the sunshine and need plenty of water. We get them started and boost with liquid plant foo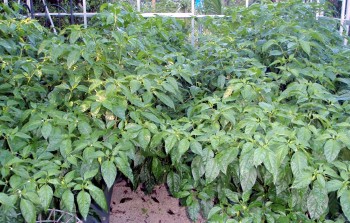 d, feeding them every 2 or 3 weeks.
Datil pepper plants will grow up to 5 feet tall! They love sunshine and plenty of water; otherwise they are pretty simple to grow and oh so good.
One day on a dare, we decided to look at what it would really take to bottle our own hot pepper sauces. After all the investigation, we rolled out Dat's Nice Original Datil Pepper Sauce, followed by Chickin Dippin, BBQ and our most recent addition, Dat's Nice Mango Sauce…our sauces have been the hit of the party ever since.
Local Fare
We are St. Augustine residents and have been all of our lives. We sell our pepper sauces through a network of festivals, markets, shops and restaurants in the area because we support our local community and believe in buying local.
Unlike the produce that is grown in other countries with pesticides, herbicides and who knows what else, then picked a minimum of 10 days and up to 21 days prior to making its way to our groceries, our datil peppers are farm fresh, and are not treated with chemicals, pesticides or toxins.
Through the marvel of the Internet and our now blessed ability to bring you this website, we can make our hot pepper sauces available to you wherever you are. We pride ourselves in the gourmet quality of our products. We also like to boast our newest credentials, NO HFCS, NO GMO and NO Gluten; we look forward to reaching many via our store so you too can savor the delectable goodness of Dat's Nice Hot Sauce.