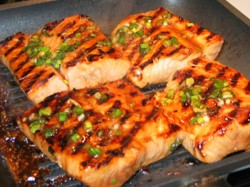 This grilled salmon recipe makes a decadent dinner and it's easy to prepare. A pleasing variation from customary grilled salmon, this version is equally delicious and spicy-sweet! Simply chop up a few extra spices and add to Dat's Nice Mango Salsa. You'll have a delicious hot pepper sauce that you'll enjoy as a marinade and dipping sauce.

Mango Salsa Grilled Salmon
Prep time:
Cook time:
Total time:
For a new twist on a favorite seafood, try grilling your next salmon with this sweet and sour variation using Dat's Nice Mango Salsa. Adding a few extra herbs and marinating with the chunky salsa adds unique flavors to this savory seafood.
Ingredients
2-3 salmon fillets or steaks
2 Tbs brown sugar
1 clove garlic
⅛ cup packed, chopped fresh cilantro
⅛ cup packed, chopped fresh mint leaves
¼ cup packed, chopped fresh parsley leaves
1 Tbs lime juice
1.5 Cups Dat's Nice Datil Pepper Mango Salsa
¼ tsp turmeric
Salt / Pepper
* Additional finely diced mango to suit your preference *
Finely chopped green onion tops for garnish
Instructions
Place the all ingredients together in a small food processor.
Pulse a few times to combine; not too much to keep salsa consistency.
Taste the sauce, should be sweet and sour, and salty and spicy.
Add more sugar if too tart, or more Mango Salsa if not spicy enough.
Place salmon portions in a shallow pan.
Pour half to ⅔ of the mango salsa over fish and turn to coat.
Set the rest aside for serving.
Marinate salmon in the mango salsa at least 20 minutes, or up to 24 hours.
Before grilling, brush a little cooking oil over your grill to prevent sticking and preheat.
As you grill, baste with leftover marinade from shallow pan.
Grill for approximately 10-15 minutes per side.
After last turn, brush with mango salsa and sprinkle with green onion tops.
Grill with lid closed for last 2-3 minutes.
Serve the grilled salmon together with the remaining salsa (warmed or not) for dipping.