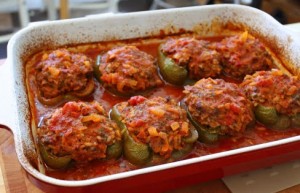 Green bell peppers stuffed with a ground beef, Basmati rice, Datil pepper mango salsa and topped with a seasoned, Datil pepper mango salsa tomato sauce.

Mango Salsa Style Stuffed Peppers
Prep time:
Cook time:
Total time:
An old fashioned favorite made new with the zippy, fruity spice of datil pepper salsa. Just a hint of heat makes this a new family comfort food.
Ingredients
4 large green peppers
Filling
1 - Pound Lean Ground Beef or Ground Turkey
½ - Cup Finely Chopped Onion
½ - Cup Italian Season Bread Crumbs
¼ - Cup Dat's Nice Datil Pepper Mango Salsa
¼ - Teaspoon Garlic Powder
2 - Tablespoons Fresh Parsley
1 - Teaspoon Italian Seasoning
1 - Tablespoon Worcestershire Sauce
¾ - Cups Par-cooked Basmati Rice
Sauce
2 -14.5 Ounce Packages Diced Tomatoes
2 - 6 Ounce Packages Tomato Sauce
½ - ¾ Cup Dat's Nice Mango Salsa (adjust to taste)
½ - Cup Chopped Onion
¼ - Cup Chopped Celery
1 - Small Zucchini Finely Copped
1 - Bay Leaf (remove after cooking)
2 - Tablespoons Italian Seasoning
1 - Teaspoon Garlic Powder
Salt and Pepper to Taste
Serve With
5 - Cups Cooked Basmati Rice
Instructions
Cut peppers in half using a paring knife and cutting as close to the stem as possible, then lift off the stem end and remove seeds.
Place peppers in a large saucepan and cover with water.
Bring to a boil; cook for 3 minutes.
Drain peppers inverted in a large colander.
In the meantime, cook rice according to package directions and keep warm.
In a large bowl, mix all the ingredients for the filling just until combined.
Spoon filling into peppers and place peppers meat side up in a 4 quart oblong glass or ceramic casserole dish.
In a saucepan, add all of the sauce ingredients listed and stir.
Bring to a boil, reduce heat and simmer for 15 minutes (remove bay leaf).
Pour sauce over all peppers in casserole dish.
Cover and bake at 375 degrees for 45 minutes.
Serve alongside cooked basmati rice with mango salsa tomato sauce slathered over all.