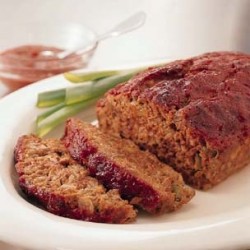 A new twist on an old classic, enhance your next meatloaf with a datil pepper sauce for a new version your family will ask for time and time again.
We all know there is nothing worse than a dry or poorly seasoned meatloaf and using spicy sauces like the datil pepper sauce, you can be sure meatloaf never falls short on the flavor train.  The oats in this terrific meatloaf recipe are an added healthy and flavor twist to replace the old plain breadcrumbs.
The flavors of the datil pepper adds a unique depth and spice to your meatloaf, a new taste sensation you will love. The kick of the datil pepper is one that adds flavor, yet dissipates quickly leaving you with the complimentary flavors to your meal.

Meatloaf Dat's Nice Enough To Please
Prep time:
Cook time:
Total time:
A new twist on meatloaf
Ingredients
1 lb. lean ground beef
1 lb. ground pork
1 c. oatmeal
½ tsp. salt
¼ tsp. pepper
2 tsp. Worcestershire sauce
1 egg
1 - 12 oz can diced tomatoes
2 c. Dat's Nice Original Datil Sauce
½ c. Dat's Nice Original Datil Sauce as a finish if desired
Instructions
Preheat oven to 350°
In large mixing bowl mix all ingredients thoroughly
Place meat mixture in a large oven safe glass pan and form into a loaf
Form a trough in the middle of the loaf for extra Dat's Nice sauce if desired
Cook for 50 min. to 1 hr or until internal temp reads 180°
Slice and Serve