We've done it! By popular request, we have created the latest and greatest of our Datil pepper products; the best recipe you will ever dip into…are you ready for this?  We recently rolled-out a sweet and tangy (and did I say chunky) Datil Pepper Mango Salsa! That's right! Chunks of red-ripe tomatoes, green bell peppers, and sweet onions blended with the juicy, peachy-pineapple flavor of the tropical mango. This salsa has the heat you love from the finest home grown Datil peppers married with that incomparable tang of the fragrant mango fruit.
You're going to love tortilla chips with this salsa – oh, the fiery succulent-sweet amazing flavor. It's just so different from your standard salsa. But eating it with chips is just one option…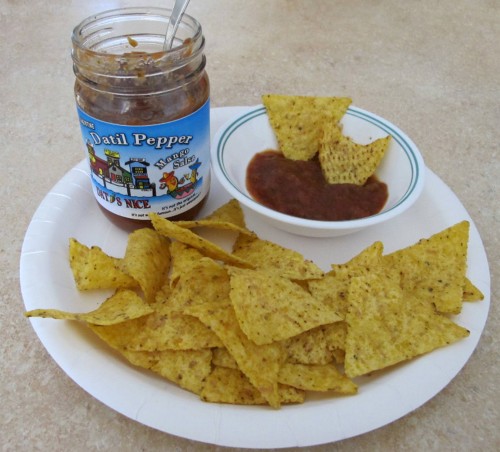 Dat's Nice Datil Mango Salsa is so awesome when used in some of your favorite recipes in place of tomato sauce, hot sauce or even ketchup. Check out our recipes for some variations we came up with where we used Mango Salsa in our own recipes…guaranteed you're gonna love them!