Nocatee Farmers Market is coming up this Saturday, April 21 for 10am to 2pm. The market is located at 245 Little River Road, Ponte Vedra, Florida. Each month at the Nocatee Farmers Market you can enjoy our traditional market, along with a new and unique theme.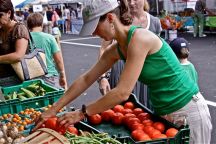 This weekend  is a Family Hoedown/Western with old time music, square dancing, hay rides and mechanical bull riding.
Dat's Nice will be set up from 10am to 2pm with all of our great sauces for you to try. Come and see us, you hear!