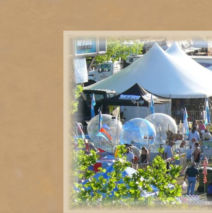 Your arrival at our website means you have likely come here looking to purchase delicious Datil Pepper Sauce! Then again, maybe you are searching for information about beautiful Saint Augustine, Florida or you are interested in learning more about the Minorcan community, the current decendants of the original Mediterranean settlers who came to St. Augustine in the 1700s.
Whatever the reason, you are here and we're glad you found us!  If you are here for any of the previously mentioned reasons, we hope to answer all your questions during your visit and provide you with a wide array of information about St. Augustine, the Minorcan population here and especially to introduce you to the amazing datil pepper and our awesome Datil Pepper sauces and products.  If you love that sweet hot tang of the Datil, you're going to love our spicy sauces…and Dat's Nice!  We have four gourmet pepper sauce flavors currently with new items planned for the near future.  Our delectable varieties include:
We use only the finest, datil peppers; only those we grow ourselves, and we've been cooking and making our pepper sauces for over 16 years. It is something we just love to do.  A passion for pepper sauces, who can beat that?!  What is even more rewarding is making our high quality dipping sauces, grilling sauces, hot pepper sauces and whatever else you can think to use them for sauces available to everyone who appreciates the wonderful flavor of the datil pepper.  So bookmark our site, tell your family and friends and visit us often to maintain your stock of pepper sauces.
Our sauces are perfect for use in the home for everyday meals, but we also make produce our datil pepper sauces for retailers and restaurants too.  If you are a business in love with the Dat's Nice brand of spicy sauces, we are ready to keep your tables and shelves stocked with all of our pepper sauces.