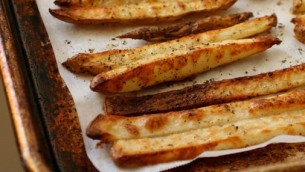 Some like 'em hot and some like 'em hotter! Here you can make your oven fries as spicy as you like, simply by which Dat's Nice sauce you choose. These oven fries are umm – umm good!
Oven Spicy Fries - Dat's Nice Style
Prep time:
Cook time:
Total time:
Ingredients
3 medium russet or Idaho potatoes
2 tbsp. olive oil
1 tbsp. Dat's Nice Original Datil Pepper Sauce OR ¾ tsp. Dat's Nice Hotter-n-Hell Sauce
1 tsp. garlic powder
1 tsp. onion powder
1 tsp. salt
2 tbsp. Parmesan cheese
Instructions
Preheat oven to 425°
Slice potatoes into ¼ inch size fries (as pictured - not steak fries).
Place sliced potatoes in a large plastic zipper bag and add the remaining ingredients.
Shake bag and turn to coat potatoes with the seasonings by shaking bag well.
Line a baking sheet with parchment paper and spread potatoes out in a single layer
Bake 20 minutes.
Turn the fries over and raise oven to 450°.
Cook 10 minutes.
Turn fries again and cook 10 more minutes or until potatoes are crisp.
Watch carefully so not to burn during the last 10 minutes.