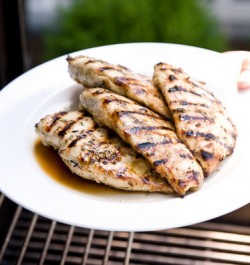 Chicken strips Buffalo style? Similar, yes but Dat's Nice Chickin Dippin Sauce is more like Buffalo Chicken à la Kickin Honey Mustard.
Pan searing chicken our way allows you to keep the full flavor of your chicken plus you won't cook off any of the awesome flavor of our chicken dipping sauces. It's a win, win. And while the recipe below features the honey mustard style of our chicken dipping sauces any of our pepper sauces are sure to give your chicken just the right kick!
Don't take our word for it. If you love buffalo chicken, you just have to try this chicken strip recipe to appreciate it.
Pan Seared Chicken Strips
Prep time:
Cook time:
Total time:
Chickin Dippin Chicken Strips - a new twist on flavor
Ingredients
1 pkg boneless skinless chicken breasts
2 tbsp. olive oil
2 tbsp. crushed garlic
¼ c. scallions
¼ c. flour
½ c. Dat's Nice Chickin Dippin Sauce
⅓ c. white wine
2 tbsp. lemon juice
Salt and pepper to taste
Instructions
Cut the boneless skinless chicken breast into ½ in. strips.
In large skillet add olive oil, garlic, onions and chicken strips sauté over high heat until the strips are brown.
Remove the strips from the pan and place on a paper towel to remove any excess oil.
Add the wine, lemon juice and sift the flour while stirring constantly as you turn down the heat to a simmer; this will allow you to have a slight roux.
Return the chicken to the pan to finish cooking about 15 min.
Place the chicken on a plate and top with Dat's Nice Chickin Dippin Sauce
Serve with your favorite sides