Rhythm & Ribs — A Stellar Event!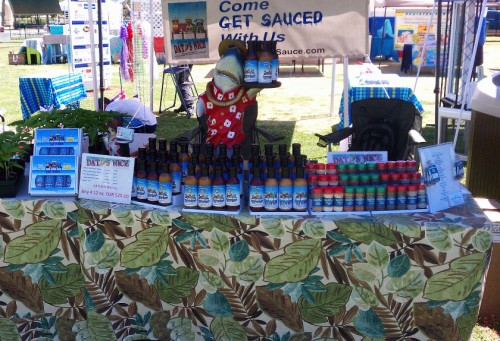 Our first year at the St. Augustine, Florida Rhythm & Ribs Festival, 4/27-29, turned out to be an exceptional weekend of record-breaking crowds,  exceptional weather, many wonderful new meetings, fabulous fo0d, rides and entertainment for everyone, beer-beer-beer, and above all… phenomenal hot sauce sales. 
We were set-up and ready to go on Friday; the music was awesome and so was the food.  We met so many new people and our special thanks goes out to all our existing customers who have made our sauces such a huge success.
Here are a few pictures we took; another of our booth and the Gecko even stopped by to let us know how much he enjoys Dat's Nice Datil Pepper Sauces.
Here are some other pictures that were taken of the events of the day. It appears that everyone had a really good time, don't ya think!
The final results are in for the festival's tallies – wow, almost at 1200 fans attended and 151 kegs of beer were sold at this year's Rhythm & Ribs, a new record…! Pretty darn good for a little hometown fundraising festival.