The 31st annual St. Augustine Lions Seafood Festival was in full swing at Francis Field in St Augustine, FL, March 16 – 18th and the event was a huge success for us at Dat's Nice. This year's festival featured great seafood, performers, music and arts and crafts exhibitors and drew crowds in the upper hundreds per hour, which was a huge blessing for us as a hot sauce vendor.
This was our second year at the Seafood Festival and we had a blast! We doubled our overall sales from last year and in this economy that is a real blessing.
Our newest addition to the datil pepper family of sauces, Dat's Nice Datil Pepper Mango Sauce is so scrumptious, people were waiting in line to give it a try. Datil Pepper Mango Sauce is spicy-n-sweet, but just a little.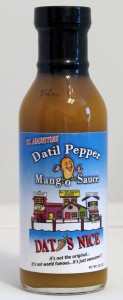 It was a great day for introducing this new flavor and we sold a bunch. You can grab some from our order page or click this link at MANGO

In addition, we just completed the design and packaging of our Dat's Nice Datil Pepper Sampler Packs.

The sampler packs have (4) 5 ounce jars including 1 each of Dat's Nice popular sauces: Datil Pepper Mango Sauce, Original Datil Pepper Sauce, Datil Pepper Chickin Dippin Sauce and Datil Pepper BBQ Sauce. These give everyone a chance to try all four flavors. We sold 25 samplers which is just incredible. A world of thanks goes out to all of our fine customers.


We are looking forward to these two great upcoming shows:
Nocatee Farmers Market – 245 Little River Road, Ponte Vedra, FL — This weekend  is a Family Hoedown/Western with old time music, square dancing, hay rides and mechanical bull riding. April 21st from 10am to 2pm. See you Saturday?
Rhythm and Ribs – St. Francis Field in St. Augustine – April 27th, 28, & 29th 2012. Please mark your calendar and come and see us all three days.