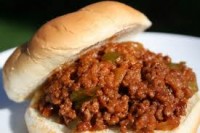 For a new twist on an old classic, try this version of the Sloppy Joe.
Dat's Nice Datil BBQ Sauce adds an exceptional flavor enhancement for the best new recipe of the year.
Sloppy Joes...mmm, Dat's Nice
Prep time:
Cook time:
Total time:
Ingredients
2 pounds Lean Ground Beef or Ground Turkey
½ Teaspoon Salt
1 Teaspoon Pepper
1 Teaspoon Garlic Powder
1 Teaspoon Onion Powder
1 Teaspoon Worcestershire Sauce
1 Medium Green Bell Pepper Finely Chopped
1 Medium Onion Finely Chopped
¾ Cup Dat's Nice Datil Pepper BBQ Sauce
1-14.5 Ounce Can Finely Diced Tomatoes
Tomato paste to desired thickness
6 Large Sandwich Buns
Instructions
Brown ground meat in skillet and drain off excess fat.
Add remaining ingredients (except tomato paste) and simmer for 30 minutes until onion and peppers are tender.
Add tomato paste until desired thickness is achieved.
Serve on sandwich buns or open face.