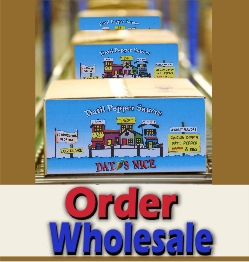 Welcome to the Wholesale Customer information page. We will be delighted to talk to you about becoming one of our retail partners. Wholesale customers will be setup on an individual basis depending on the nature of your business and the quantity of our datil pepper sauces you want to purchase for resale.
Items purchased at wholesale must be from 'physical store' establishments only and you will be required to sign a Wholesale Terms Agreement stating that you will not represent our products as your own and that you will abide by our wholesale terms.
Please note that when you purchase directly from us, shipping costs will apply.  Keep in mind we do maintain a minimum order for all wholesale accounts. Credit references may be required and orders will need to be paid by credit card or Paypal at the time of order. To become a wholesale customer, please contact our Business Manager using the below form to request the appropriate forms be sent to you.